What Are the Roles and Responsibilities of a Content Writer
Content Writer is a career where you provide information on various topics like studies, results, statistics based on the information you wish to share. As a content creator, you will need to collaborate with teams around the business to create meaningful, authentic content to inform your readers, distribute content, and also provide valuable feedback. If you are looking for a content writer job, then you may wonder what the content writer job description is and plan yourself for this job profile according to the requirements. To learn more, read the full blog below:
Responsibilities of Content Writers:
As a content writer, you need to write and deliver unique and fresh content in the blogs for your client's website or any social media profile. You may need to add relevant images, videos, or any demographic representation to make your content look more attractive.

Build an editorial calendar and coordinate with other teammates to deliver smooth and fresh content in a regular time interval so that there is no ignorance of any blogs.

Install various tools for SEO and optimize your content for better ranking in Google.

Keyword research for the relevant topic you wish to write for the blog content and maintain at least 3 % of the keyword density of your entire content.

Review each content before posting it to any blog or website and make sure it doesn't have any plagiarism or copied from any other source. 

Review through the material before uploading it on any blog or website to ensure there is no plagiarism or copying from any other source.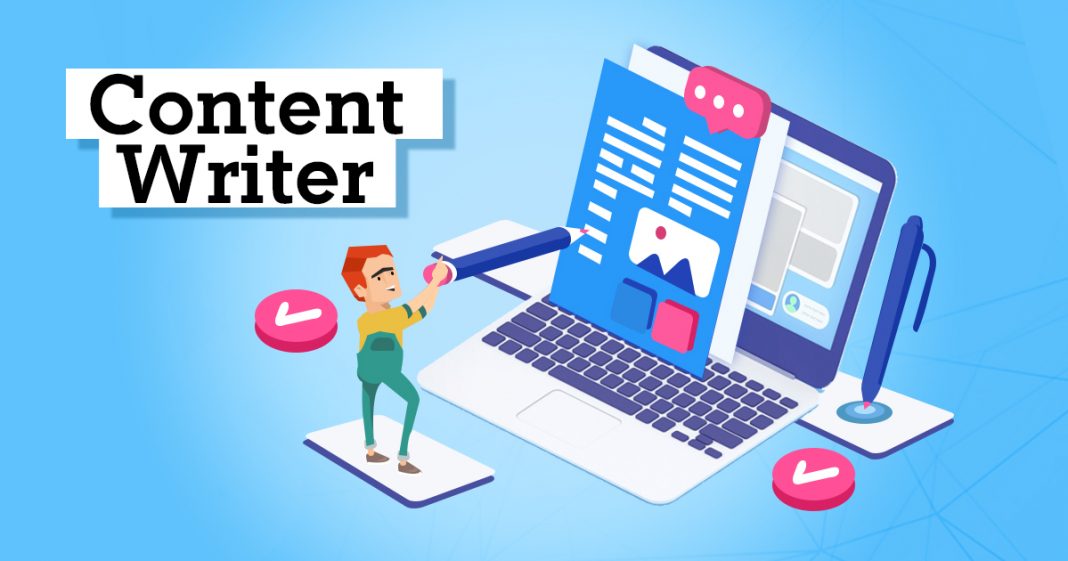 Requirements:
For the requirement of the

content writer job description,

the candidate should have any bachelor's degree with English and communications as a prior subject in that field.

If you are a tech enthusiast that it is a plus point for yourself as nowadays there is a huge requirement for tech-related content writers. If you are not a techie, then try out to gain some abilities to learn and understand recent trends in technology.

You should be able to handle pressure during difficult situations and have the tendency to complete all the tasks assigned in time. 

Excellent verbal and written communication skills.
The above-mentioned criteria and responsibilities for the content writer job description are a must for a fresher content writer if you are looking for a good career profile in content writing. You have to practice various Search Engine Optimization techniques in order to get visitors to your content. We hope you liked this article and wish to see you again soon.
Happy Reading.